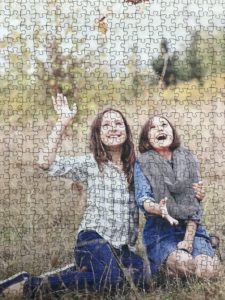 We wanted to share the process of creating a custom wood jigsaw puzzle with you!  This is a project for a dear friend, using a picture of her sweet girls.
Step 1 – Wood Selection:
Our team started by finding the perfect wood!  It was important for us to find a wood with a smooth surface for printing, that was ridged without being too thick.
For each project we carefully hand select the sheet of wood.
Step 2 – Formatting:
The digital department sets up your picture and gets it ready to go into production.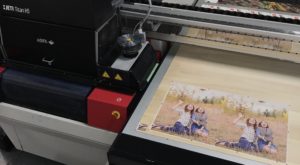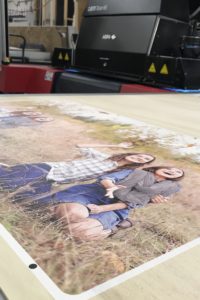 Step 3 – Printing:
A thin layer of white ink is printed directly onto the wood.  This allows the true colors in your picture to show as well as the wood grain texture.  Then your beautiful picture is printed directly onto the wood utilizing one of the large format printers.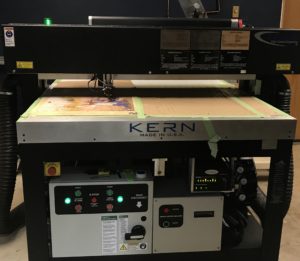 Step 4 – Laser Cutting:
We had a template custom designed to ensure that each puzzle piece is unique.
The laser cutter burns each individual piece, this takes about 2 hours depending on the puzzle size.   A special setting is used to provide the thinnest possible cut.  This process is carefully monitored by one of the laser specialists.
Step 5 – Packaging:
A box is created with your picture on the front to use as a reference while building your puzzle.
Please message us if you would like a title or message added to your box.
Each puzzle piece is carefully removed and placed into the box, ready for you to build.
Puzzles make for great family time – Enjoy!